A review copy was provided in exchange for an honest review.
My Lady Jane

by Cynthia Hand, Brodi Ashton, Jodi Meadows
Published by HarperTeen
Published on June 7th 2016
Genres: Fantasy, Historical Fiction, Humorous, Retelling, Romance, Young Adult
Pages: 512
Format: ARC
Buy on Amazon--Buy on B&N
Add to Goodreads



For fans of The Princess Bride comes the comical, fantastical, romantical, (not) entirely true story of Lady Jane Grey.

Lady Jane Grey, sixteen, is about to be married to a total stranger—and caught up in an insidious plot to rob her cousin, King Edward, of his throne. But that's the least of Jane's problems. She's about to become Queen of England. Like that could go wrong.
Warning: Many GIFs and much fan-girling ahead! 
This. This book. I almost don't have the words to describe how much I absolutely adored every single word of it. I laughed so much! I loved. I swooned. I laughed some more.  When the synopsis says "For fans of The Princess Bride" they are not kidding. I was like, yeah right. There is no way that anything could compare or be similar to my favorite movie of all time. Literally – OF ALL TIME. #1. Forever. Since childhood. (Followed by Labyrinth at #2, in case anyone was wondering). BUT yes. SO MUCH YES. If you like The Princess Bride, then you must read this book. So, on to the review….
No, dear reader, this is not a kissing book.  For the most part. It is a severe lack of kissing book, actually. Not that I'm complaining. It is so refreshing when the romance isn't the point of the book. Even though there are people falling in love, the kissing becomes quite a bit more complicated than you could image. Especially if Edward is around. But there is so much more than romance – there is betrayal, and action, and humor… and history (however altered it may be, there is some accuracy to it… somewhere in there). There is also a fantasy aspect, which is surprising, considering it is essentially based on actual events. It adds such a unique element to the story though, which I absolutely loved. Speaking of that, have any of y'all ever seen this movie?
Yes, that is a super young Michelle Pfeiffer. Also, this movie is from 1985. Most people have no idea what I am talking about, but I wonder if the authors used this for inspiration at all… because… well it makes plenty of sense. But it is very clear that the largest inspiration – aside from actual history, of course- was TPB. A little over halfway through, and I start getting flooded with references. I am not even mad. Not one little bit. For example:
And then:
Which just warms my heart. Then, unexpectedly, lol, this:
You can't not include this gem:
And for good measure, let's throw in some Monty Python….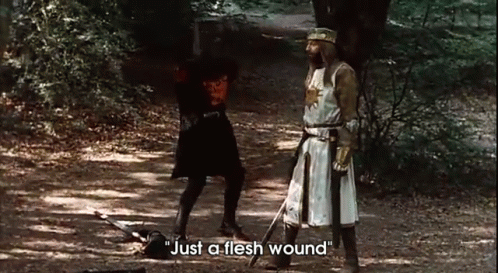 The characters themselves… Oh man. I LOVE LOVE LOVE them. I am mostly talking about the three perspectives we read from, Jane, Gifford (known as G), and Edward. Especially Jane and G, of course. Jane is hilarious. The horse jokes had me seriously cracking up!
"Is that a horse joke?"

"Neigh."

"Is THAT a horse Joke?"
Oh man there are so many. Jane is also obsessed with book, like so many of us are, which kind of brings her down to earth with us. G is amazing, of course. I had a question through a large majority of the book about G, and his poetry, but the lovely narrators wrapped that up at the end for me, so they solved that problem. I thought I wouldn't like Edward, but in the end he had really grown on me. Speaking of the narrators…. I wish more narrators talked to me like they did. I love all the random comments and explanations from them. They broke the fourth wall, and I loved it. So much fun. As far as the history goes, they really took some liberties with it. Again, not complaining, just informing. But I think  it made for an amazing retelling of history!
Just like The Princess Bride, there was action, adventure, love, lies, and most importantly, humor. I have a new obsession, and it is definitely this book. I honestly cannot speak highly enough of this story. I urge you to go read this, as quickly as possible. I don't know if the authors (all of whom I already ADORE and are amazing authors alone) plan to do more like this, but this is me begging you to please do so:
5 outstanding stars (only because I can't go any higher, otherwise I would).
The following two tabs change content below.
Florida girl. Mom and wife. Obsessed with all things horror. Lover of all things pop culture. Fangirl of too many fandoms to count. Reading is my passion and obsession, it's my mini vacations and relaxing getaways. Find me on Instagram (@itsportiasbooks) if you want to chat!